Hearing from teachers about enhancing the GO CAPS Teacher Externship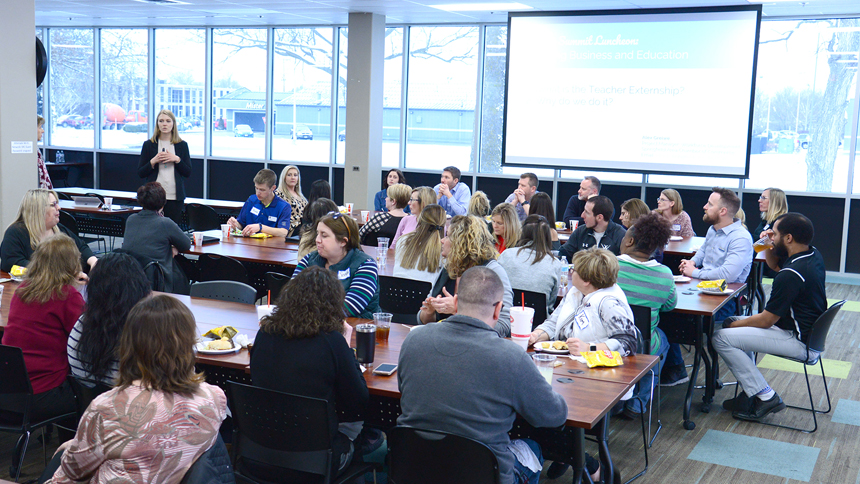 As teachers make their way through the GO CAPS externship program over four days each summer, they learn about the opportunities available in the workplace for their students. But they also come up with new ideas about how to put that information to use and share it with their students and colleagues.
The annual GO CAPS Winter Summit is our opportunity to bring teachers back together and hear the benefits they've gotten out of their participation in the program, along with their ideas for making it even better in the future.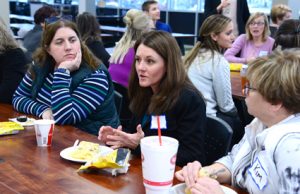 The 2020 summit, held on February 20 at SRC Electrical and sponsored by CoxHealth, featured teachers from the region meeting with GO CAPS leaders from the Chamber as well as business partners who participate in the program.
During this full day of professional development, teachers talked about their expectations from the program, projects they've completed in their classrooms based on what they learned, and their ideas for growing the externship program. Here are just a few of their insights.
When discussing what students learned from their projects, many teachers spoke about the benefit of giving industry professionals a chance to interact directly with students. These interactions allow students to see real-world examples of what they're learning from a voice they aren't used to hearing. Here are a few examples of what teachers had to say about those experiences:
"If you give a kid a writing prompt, they hate it. But a real-world project gets them super excited."
"Students love being reflective if they can do that with professionals other than their regular classroom teacher."
"Real world interviews for students are a great tool."
"Students were offered summer jobs from some of the business partners that came into the classrooms!"
The final part of the day was spent planning for when teachers are back in their classrooms. They each completed one project to apply what they learned during the externship, but during this session they discussion how they might continue to make changes in their classrooms. The externship left a lasting impression on teachers; here are a few thoughts they shared about ongoing changes they'd like to make as a result of that experience:
Instead of doing one big project, try spreading changes out throughout the year
Yearlong career journals – let students pick which jobs they are interested in learning more about and then do some research and write about them
Hearing from professionals in all areas is important to the students – they want to see all types of jobs – so include business professionals during lessons throughout the year as "industry experts" or "real-world voices"
Teachers who attended the Winter Summit had the chance to connect with their peers and with business partners who support the externship and were excited about engaging with educators. So many professional development opportunities for teachers are focused on what other teachers are doing, but the externship allows them to see what is going on outside of education. We know teachers are hungry for this kind of experience because during the Winter Summit, multiple teachers said they would like to participate again during the 2020 Summer sessions.
Note: Registration is now open for the 2020 Teacher Externship program. If you know a teacher who would be a good fit for the program – or a business that could host teachers this summer – visit the GO CAPS website to learn more!