Accessing untapped resources to find great employees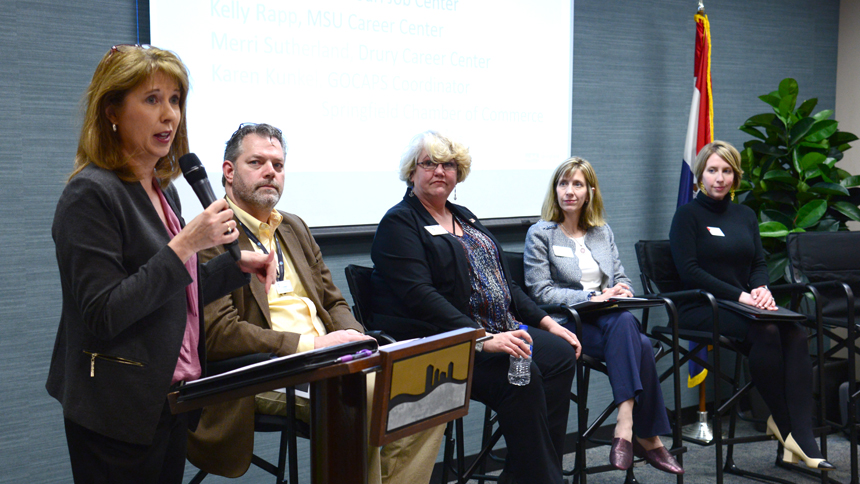 With the historically low unemployment rate and more job openings than job seekers, many employers are having a harder time than ever finding the right person to add to their staff.
At the Chamber's 60 Minutes to Success event on February 19, presenters offered a rapid-fire look at some groups that companies might not initially consider when thinking about where to find their next great hire.
"Untapped Local Talent Resources: How to Find Your Next Great Employee" offered information on connecting with a wide range of individuals eagerly looking for their next job, or perhaps their first job.
New to the workforce
Representatives from Missouri State and Drury universities provided details about how businesses can connect with students, either while they're still in school looking for internship opportunities or as they prepare to graduate and enter the workforce.
Both Kelly Rapp of the MSU Career Center and Merri Sutherland of the Drury Career Center noted that employers can connect with students via career fairs, setting up tables at various locations on campus, posting job and internship opportunities with the schools or by scheduling interviews directly with students.
The easiest way to connect with all of these resources, both said, is through Handshake. This online portal is used by more than 900 colleges and universities – including MSU, Drury and Evangel – and boasts more than 5 million active student users.
Tapping workers with experience
If your business is looking to hire someone who's not just joining the workforce, the event offered two other sources of information as well.
J Gibbs, director of employment services at Abilities First, told those gathered about how his organization connects businesses with individuals who have developmental disabilities and are looking for work.
He said his job is split between providing on-the-job support for individuals and helping employers learn about how to welcome the people he serves.
"We have a very large group of people we serve across southwest Missouri – about 40,000 people – and many of them looking for work," Gibbs said. "We educate about what it takes to be an inclusive employer. I applaud the Small Business Council for including us in this event, because we need to tap into this hidden labor pool."
Sabrina Bonnette from the Missouri Job Center encouraged businesses to consider another group looking for work: veterans leaving the military. As the job center's veterans' employment representative – and a veteran herself – Bonnette said there are several potential advantages to hiring someone with military experience.
"You're getting personnel that are cross-trained in multiple areas, and they know how to put in a hard day's work," she said. "They have experience working amongst peers from diverse backgrounds and points of view, building relationships, and they know how to advance your mission."
Both Bonnette and Gibbs noted that state and federal tax incentives may also be available for working with their respective organizations for your next hire – particularly, in the case of veterans, through the Show-Me Heroes on-the-job training program.
Planning for the future
And while she didn't have direct hiring information to offer, Karen Kunkel, coordinator of the GO CAPS program for the Chamber, said the GO CAPS program offers another way for businesses to connect with potential future employees while they're still in school – and encourage them to stay in this area when they're ready to enter the job market.
GO CAPS allows high school juniors and seniors and chance to test drive a potential career by spending half of their school day in the workplace learning about the opportunities that are available and what they need to do to prepare for them.
"From the Chamber's perspective, we want these kids to feel like they can stay in this area when they're done with school and ready to start working," she said. "Sometimes teenagers have blinders on; they know how to get to their friends' house or to school, but they may not be paying attention to all the career opportunities available right in front of them."