Gary Gibson: The new man in power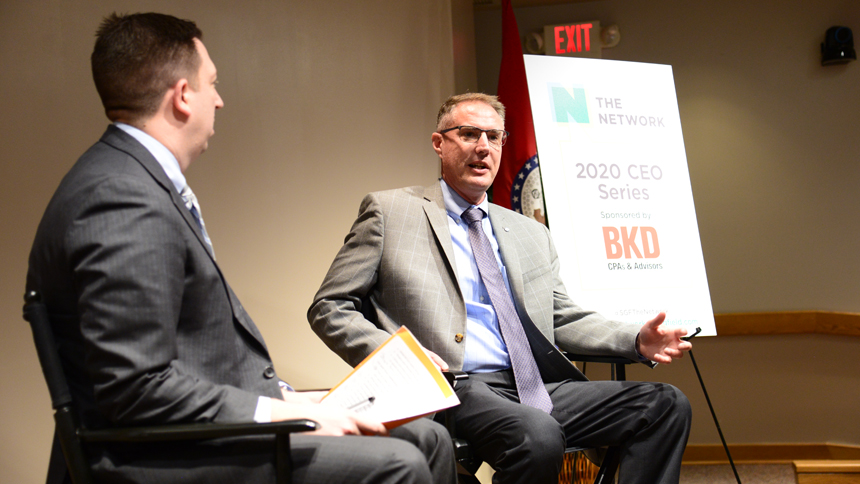 Gary Gibson recently took a new job. But he's pretty familiar with the organization he now leads.
Gibson, who took over as general manager and CEO of City Utilities in late December following the retirement of Scott Miller, has been with CU his entire professional career – nearly 30 years, starting with an internship in 1990 while a student at what is now Missouri University of Science and Technology.
And as the guest on February 13 in the latest installment of The Network's CEO Series told the YPs gathered at CU's Rountree Center, the central Missouri native has a deep love for both his organization and the Springfield community.
"It's the people. I had interned at a couple of other places, but Springfield has a different feel," Gibson told Network Chair Ryan Sivill. "This has a big town feel to me; everything you could want to do is here, or it's close by."
Moving at hyper-speed
He's overseeing an exciting time at CU. The utility celebrates 75 years as a publicly owned entity in 2020 and is in the midst of several large projects. The highest profile of those is the gigabit Internet project being worked on in conjunction with CenturyLink. Construction is underway on the beginning of that infrastructure, and the hope is to turn on that service for the first customers – in an area of Springfield north of Kearney Street and west of West Bypass – by late spring.
Gibson said the gigabit Internet plan was modeled after a similar project in Huntsville, Alabama, and follows on the heels of Google's announced plans to install fiber in Kansas City – but this plan is different.
"Google started in Kansas City, thinking they could pick up that system and move it everywhere else. They can't. It doesn't work that way," he said, noting that differences in local regulatory structure make it hard to replicate a system from one community to the next. Instead, the model is shifting to one where companies pair with partners – like utility companies in the local communities – that are equipped to step in.
And he added that while CenturyLink is the first partner, their deal is not exclusive. "We are involved in conversations with other providers," Gibson said. "We hope they won't be your only choice and there will be options to keep costs down."
A full plate
Gigabit Internet is the flashiest new project, but it's by far not the only item on the agenda at CU. Other projects include develop and rollout of a new customer engagement platform, with an app that will customers better report and track outages and pay bills.
"When you compare us to other utilities in terms of customer service, we do well. But when you compare us to other businesses, as a whole, we're behind" he said. "If Domino's can text when you're going to get your pizza, we should be able to text when your power will be back on."
He also pointed to the ongoing efforts to implement smart meters for customers that will reduce the need for in-person meter reading and provide readings every 15 minutes instead of once a month. "It seems counterintuitive that we'd want to help you use less of our product, but that's the advantage of a city-owned utility," he added.
Words of wisdom
Part of what drives these innovative new ideas is innovative thinkers – which is why Gibson said it's so important to encourage diversity in the organization, especially one like CU where turnover is lower than the average workplace.
"When we fill jobs, we tend to fill internally – so if you're not intentional about adding diversity in the lower ranks, change doesn't happen," he said. He added that he and the executive team have been with the organization for 15-20 years or more, so avoiding "group think" is key. We need diversity of experiences, age, and background on the executive team so that we can serve people the way they need to be served."
Gary also had some advice for the YPs in attendance. He advised them not to avoid conflict just in service of being a "nice guy," and he discussed the importance of having mentors to share ideas with. He also offered his idea on what it will take to transform Springfield.
"We need diversity, density and design," he said. "And we need to be proud of our community. We get in a trap where we want to build things the cheapest and quickest. We need to build things that our kids can be proud of."