Manufacturing leaders discuss trends in supporting industries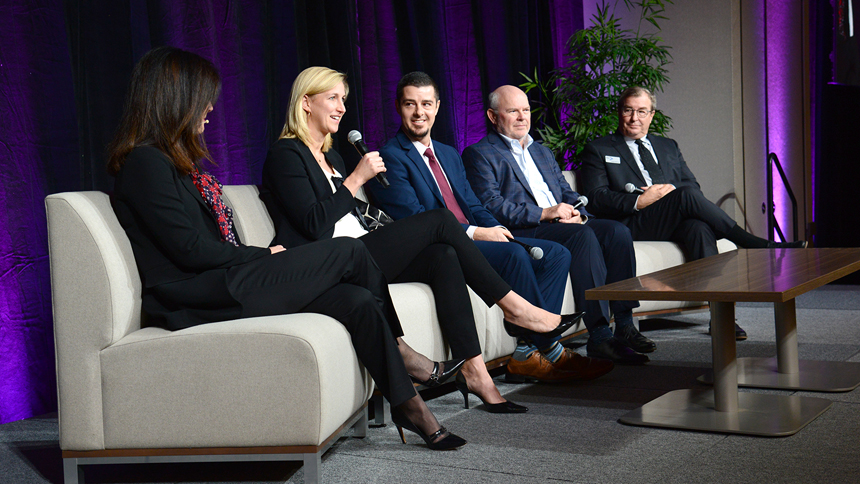 The focus of the SBDC's 2019 Manufacturing Outlook event, held on December 6 was trends and issues affecting industries that support manufacturing, such as real estate and logistics, automation, workforce training, and transportation.
Real estate development is a critical part of attracting and retaining business like manufacturers. Alex Woodson, Chamber economic development project coordinator, provided an update on real estate market trends including the current 4.3% industrial vacancy rate and the challenge of having available buildings and sites to compete for projects. Woodson noted that without real estate for companies to consider, economic development staff might not get the opportunity to discuss the Springfield region's strength in workforce to secure potential job creation and capital investment projects.
The panel of speakers, moderated by Jena Holtberg-Benge of John Deere Reman, included Christina Angle of Erlen Group, Greg Herren of Multi-Craft Contractors, Robert Randolph of OTC's Center for Advanced Manufacturing, and Mark Walker of TransLand.
When looking at the biggest trends affecting industries in which they each work, many of the panelists pointed to a common theme for business overall: workforce.
"We have a shortage of 60,000 people nationwide in trucking right now, and that's only going to grow," Walker said. "In an era of amazingly low unemployment, how do we make a case for the trucking industry to young people?"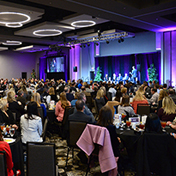 Multi-Craft Contractors' Herren pointed to the continued exit of the baby boomers as a challenge, particularly on the manufacturing sector, as is the impact of technology – moving many workers from repetitive, sometimes dangerous jobs to more high-level work that requires different skills. "Automation is growing every day," he said. "The Internet of Things is changing our world, so our engineers have to constantly stay up on the next best thing."
That automation trend is affecting Angle's industry, real estate, in a different way. She pointed to the change in consumer habits – particularly grocery shopping – as a huge driver toward change in real estate.
"By 2024, 70% of grocery shopping will be online," she said, noting that the hot trend is reusing old warehouses in center city districts as distribution centers, which can be up and running quickly to serve large populations. "Groceries will be moved to the fulfillment sector and the focus will be on timeliness and picking items fresh."
These trends all drive the need for people with new and varied skills, which will in turn help them achieve higher-paying jobs and spur growth. Randolph says OTC is preparing to help people obtain those exact skills.
"The Center for Advanced Manufacturing is an innovative approach to helping us ramp up capacity for the next generation," he said. "We need to show people that manufacturing is a good career and we can get you connected – even if you're already working, you can receive training."
And all the panelists encouraged the business community to get involved in supporting manufacturers and workforce development efforts in general. Herren particularly pointed out programs like GO CAPS within the K-12 education system need business community support, as well as career training programs in higher education like those offered at OTC.
"Springfield got the Center for Advanced Manufacturing over Kansas City or St. Louis, and we need to be proud of that," he added.
Support for workforce training also needs to come from the state level, as it did in the 2019 legislative session with the passage of Missouri One Start and Fast Track, Holtberg-Benge added, noting that lawmakers need to hear from the business community on these topics. "Sometimes our legislators need to hear from us – and hear why it's important to make these changes," she said.
Despite the potential challenges, the panelists were optimistic about the future for Springfield and its manufacturing industry. Herren predicted a migration toward our region from larger urban areas, helped in part by the Chamber and SBDC's talent attraction efforts.
And they all agreed that businesses can help with the workforce issue by getting students into the workplace, so they see the variety of opportunities available to them in this area.
"And tell them to bring their parents and counselors," Randolph added. "Help spread the message about what Springfield can be about."