Economic development leader visits Chamber during statewide tour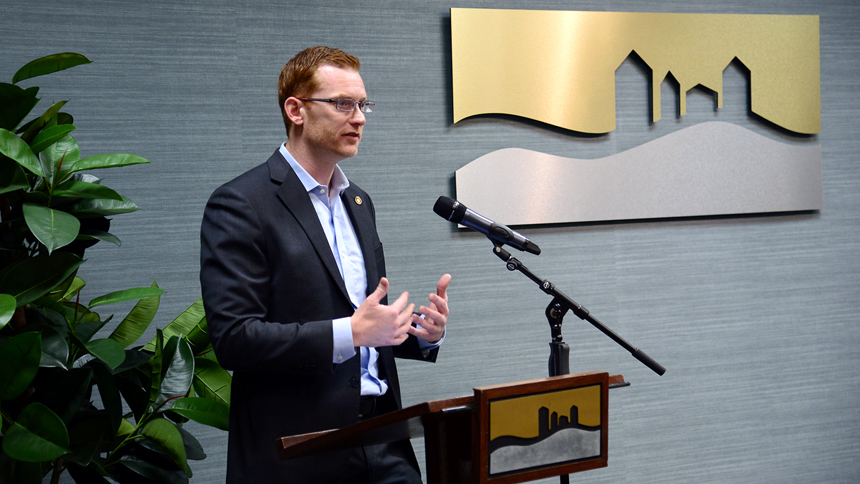 State Rep. Derek Grier served as chairman of the Missouri House Economic Development Committee during the 2019 legislative session. Now he wants to learn more about what individual communities across the state are looking for to help develop jobs and economic growth.
That's why Grier visited Springfield as part of a statewide tour in December. He was at the Chamber on December 13 to speak at the last 2019 meeting of the Governmental Relations Committee, offering his thoughts on the last session and his outlook for next year – and to hear from Springfield leaders about what our community is looking for at the state level moving forward.
"It's important to understand economic drivers and how our state's policies impact that," Grier said. "I'm trying to broaden my horizons, to understand your community and the employers that are here, the opportunities for growth, and how I can be a cheerleader for our state."
Grier said he's also trying to remove barriers to job creation and elevate the state's efforts in developing the workforce. Two significant legislative successes in 2019 were related to that effort. The passage of the Fast Track Workforce Incentive Grant will help train the workforce and upskill individuals, and the passage of Missouri One Start streamlined the state's Department of Economic Development to make it easier for businesses to navigate.
Grier was an early supporter of these programs and was a sponsor of the House version of the One Start legislation.
"This new structure helps businesses move into whatever program they need," Grier said. "Businesses of two to 20,000 can utilize this program to get the training they need, partnering with our state's community colleges."
He also mentioned the need to address the state's professional licensing criteria, noting that a full quarter of all jobs in the state require a professional license from the state for participation.
For comparison, Grier recounted the story of standing on an aircraft carrier watching jets take off and land and noting that the military men and women doing those jobs were as young as 18, while many professional jobs in Missouri are unavailable before age 25 due to experience and licensing requirements.
"Licensing requirements are supposed to be about protecting the health, safety and wellbeing of our people, and that's extremely important," he said, "but in a lot of cases it's gone well beyond that."
Grier also noted that some 30,000 nursing jobs in Missouri could be filled today if people with the proper skills and licensing were available. He said the key at the state level is a combination of enticing people to come to Missouri and helping people who are here get the skills they need.
"There's a focus on solving that problem, and the institutions I'm visiting around the state are working hard on that issue," he said. "We can't continue to stay in that space of historically low unemployment without encouraging people to skill up and join the workforce."
In addition to meeting with the Governmental Relations Committee, Representative Grier spent the day learning about Springfield through community meetings, tours and interactions with local businesses.
The Springfield stop on his statewide economic development tour included meetings with large employers, small business, and local education institutions. Business and community leaders applauded his commitment to learn about our region so he can be better informed of the needs of business during the upcoming legislative session.