State Senators discuss importance of civility in government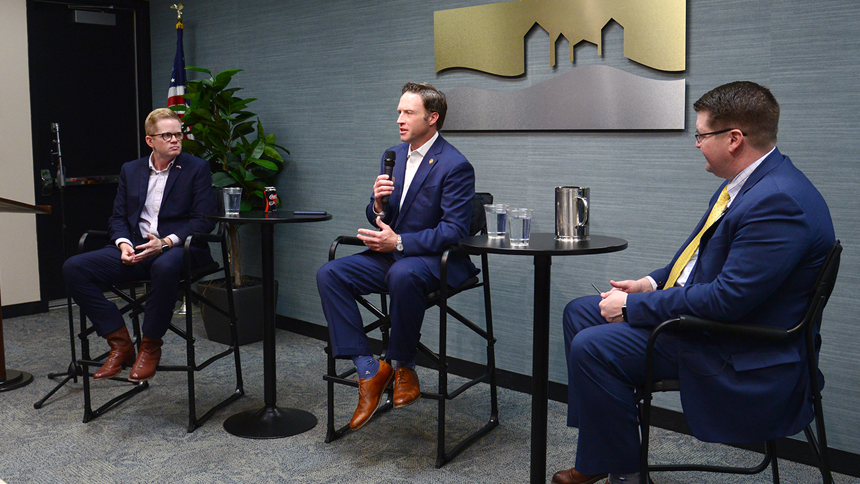 When State Senators Caleb Rowden and Lincoln Hough visited the Chamber on November 8, they talked about some of the state legislature's accomplishments in 2019 and the potential for the 2020 session. But they also talked about why they are both fearful and optimistic about the future of our state.
The two senators were the featured guests at the last edition of the Chamber's 2019 Public Policy Speaker Series. Rowden, who serves as Senate Majority Floor Leader, has represented the 19th district around Columbia since 2017, while Hough is in his first Senate term from the 30th district in Greene County.
They talked about the importance of Gov. Mike Parson's continued focus on workforce development and infrastructure, as well as his focus on doing a better job in economic development.
"Gov. Parson has carried the idea we need to better market our state," Rowden said. "Sometimes in Missouri, we're not good at knowing what we're good at – we need to understand what our story is and then tell it. We're better at that today; but now that we can understand who we are, how do we tell the story?"
One key, Hough added, will be carrying some of that economic development momentum into 2020. He said that revenue and economic indicators both look promising at the moment, but "we need a sustainable growth plan."
Then the two turned to their take on the current political climate, and neither was thrilled with the tone of the current political discourse. Hough said he wanted to build a better community and a better state for his children's future, but sometimes the lack of civility in political conversation can be off-putting.
"I don't always understand all of my colleagues' struggles, but I'm willing to go and learn. Let's all work together and be civil," he said. "The best thing Missouri has is our people and our work ethic. People are willing to work and willing to learn."
For his part, Rowden said he values the ability to talk to everyone, regardless of which side of the aisle they sit on. "We need respect and camaraderie. I want to have an impact on that, create that conversation and lead by example," he said. "I value that even more than just passing a good piece of legislation."