Reconnecting with GO CAPS students to chart the future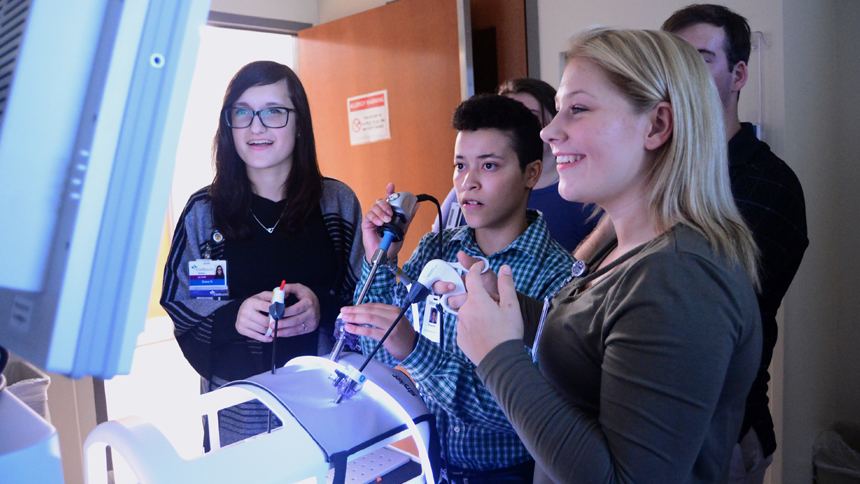 The Greater Ozarks Centers for Advanced Professional Studies (GO CAPS) is progressing through its fifth year of exposing area high school students to potential career options in a wide range of areas.
But GO CAPS is also taking the opportunity to reach out to those who have already been through the program, to reconnect with them and learn what they were able to get from their experience – and what they are doing now.
GO CAPS Coordinator Karen Kunkel has spent the last several months surveying students who have completed the program. She reached out to 350 students who participated in the first three years of GO CAPS, and 34 percent responded.
Of the more than 100 students who completed the survey, the results indicate that students are working hard to make the most of their opportunities; more than three out of four are pursuing a college degree of some kind, and more than 70% are working – meaning a large portion of the respondents are doing both.
And these engaged young people are, for the most part, staying in our area. Nearly seven in 10 of those working toward a post-secondary degree are in local schools, led by Missouri State University and Ozarks Technical Community College.
As for helping students plan for their future careers, the survey showed that GO CAPS is helping in that area, too.
By showing students what options are available, they make better decisions about which career field to choose, and 52% said GO CAPS confirmed the field of study they had been considering. But 42% also said they were convinced to consider a different field, and 25% showed them what they did NOT want to do as a career.
Kunkel said that information is just as valuable for students.
"They're better consumers of their education," she said. "We don't want employers to hire someone right out of school, have them be there for six months and then decide, 'This isn't for me.' If they learn something is for them, or even if they learn something isn't for them, everyone is in a better place as a result."
One other item the survey asked about was students' plans related to where they want to settle down. Nearly 52% said they're really like to live in Springfield or wouldn't mind living here, while another 35% "feel like leaving the area but would be interested in coming back."
"Those numbers tell us that Springfield has a lot to offer – but they also tell us that it's crucial to stay in touch with these young people," Kunkel said. "We need to keep them informed about the career opportunities and community amenities that would convince them to come back."